If you'd like to be added to our mailing list, click here

E-Mail:j orine@pinebrook-farms.com
PINEBROOK FARMS, 611 Virgie Community, Magnolia, Texas 77354 PH: 281-356-3441

FAX 281-356-7018
Clinic Fee $200.00
During the time of year when we are not holding Summer Camp, we will be hosting R.I.D.E.R. WEEKENDS. These are two -day, overnight opportunities to enjoy good; Riding, Inspiration (to become a better horseman, and individual), Dreaming (in the bunkhouse), Eating (great meals), and Riding (again). These weekends concentrate on riding and horsemanship lessons for youngsters from 8 to 15 years of age , while having a lot of fun with horses, in a safe and caring environment. South East Texas' mild winters allow for year around riding, but in the event of a cold snap, riding in cooler weather can offer riders some interesting challenges.
R.I.D.E.R.'s weekend overnight program from 1:30 P.M. on Saturday, to 3:30 P.M. on Sunday, and may provide


| | |
| --- | --- |
| Six hours of Riding lessons | Bunkhouses and dining hall, heated for comfort |
| Horsemanship instruction | Great meals, including a "Ranch Hand Breakfast" |
| Bonfire, and cookout | Games, Contests, and Prizes |
| A "Cowboy Devotional" | Archery |
| Vaulting | Arts and crafts |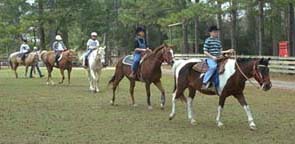 Convinced? Then click here to download the registration forms as a "pdf file" right now! Fill it out, send it in with your deposit, and your spot in camp or clinic is reserved.
Please make check payable to: Pinebrook Farms and mail application to: Pinebrook Farms · 611 Virgie Community · Magnolia, TX 77354 · Attn: Jorine Seale
Note: You have to print out the registration form, fill it out, mail, eMail or Fax it to us. If you have any problems downloading or printing the forms, please send us e-mail, and we'll Fax the necessary forms right away.
For more information on what TO bring and what NOT to bring, bringing your own horse, and more, click here> Additional Information
Participants are required to fill out a HEALTH HISTORY and liability RELEASE FORM to attend.
Other clinics are held during the year for adult riders as well as youngsters, as need and schedule allows.
References are gladly given upon request. We'd be happy to schedule a private clinic for you, or advise you of all clinics held at Pinebrook Farms by putting you on our mailing list.