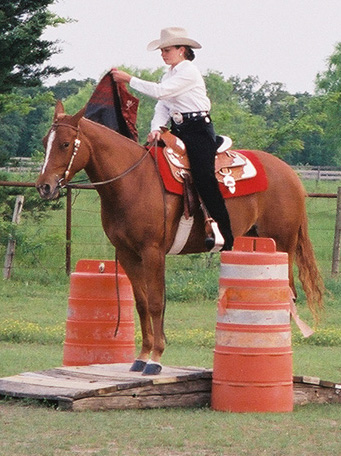 If you'd like to be added to our mailing list, click here

E-Mail: jorine@pinebrook-farms.com
PINEBROOK FARMS, 611 Virgie Community, Magnolia, Texas 77354 PH: 281-380-9140

FAX 281-356-7018
Jennifer Seale on Skips Promise by Bee Dots Skipper.
Pinebrook Farms' entries at horse shows started winning in the early 60's. We have raised, trained, and shown, along with our students, (open, youth and amateurs) champions in 5 different breed associations. Although, our personal "breed of choice" is the American Quarter Horse, we have also trained and shown Palominos, Paints, Appaloosas and Welsh Ponies, as well as Hunters in several breeds.
Jorine is active in local, state and national breed associations for all the above, and served as the Horse Project Leader for Tomball 4-H for 7 years. Many of her students have been Hi - Point winners in 4-H youth, open, and amateur classes at major national shows. We've not hauled to shows for the last few years in order to spend more time at the farm with lessons, clinics, summer camps, and special events. However, we do stay current on showing trends and still assist students that show.